[This post has been updated]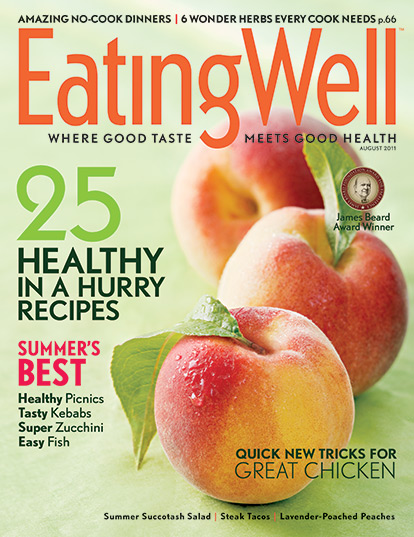 A magazine publishing giant has expanded its footprint in the food category by gobbling up a successful mid-sized player and launching a new food-related website. Meredith Corp. has purchased the Vermont-based EatingWell Media Group, publishers of
Eating Well
magazine and its related online products. The takeover also coincides with the launch by Meredith of
Recipe.com
a sort of combination food and couponing site, according to
a release
from the company. It will feature a large number of well-known brands such as
Betty Crocker
,
Campbell
's, Fleischmann's, French's, Keebler,
Kellogg
's, Morningstar Farms, Pace Salsa & Picante, Pepperidge Farm, Prego, and Swanson.
Terms of the deal were not announced, but Meredith pointed to the fact that 60% of
Eating Well
's revenue comes from non-print sources: "digital publishing sources, licensing and custom marketing". It said that it plans to increase
Eating Well
's print circulation rate base from its current 350,000 to 500,000 by next year.
"

Meredith

already produces great food content across our brands, and food is our top advertising category," said Meredith chairman and CEO

Steve Lacy

. "In acquiring EatingWell and launching Recipe.com, we've added two anchor brands to serve the 75 million American women we engage every month, and the marketers that want to reach them."
Meredith publishes a range of women's lifestyle titles including
More
(which publishes a Canadian version in partnership with Transcontinental Media), Better Homes and Gardens, American Baby, Family Circle, Ladies' Home Journal, Parents, Traditional Home, Fitness and Diabetic Living. The EatingWell website joins the Meredith Women's Network, which reaches 25 million unique monthly visitors and averages 275 million monthly page views.
Eating Well has a readership of 1.8 million and 2 million unique visitors a month to eatingwell.com.

As a result of the merger, the CEO of EatingWell Media Group, Thomas Witschi, becomes executive vice-president of the national media group and president of its lifestyle portfolio.
Eating Well has also been part of the iVillage Food network. iVillage
recently launched
a Canadian site in partnership with Rogers Media.
[Update: The story of Eating Well has a strong Canadian connection. Its founding editor in 1990 by James Lawrence (one of the founders of Harrowsmith and Equinox magazines and Camden House Publishing) backed by Telemedia Communications of Toronto, which later sold controlling interest to multinational publisher Hachette Filippachi, but it was folded in 1999 because of weak ad sales. Lawrence and some partners revived it in 2002 as a quarterly and by 2005 had increased its circ to 300,000 bimonthly.

In 2003 Lawrence (who is no longer with the magazine) wrote this about its misadventures in corporate publishing:
"Born in a small Vermont town, the mag was bought by Hachette Filipacchi after several years, then deep-sixed in 1999. A group of original founders brought it back in 2002, after watching their baby 'run by international publishing titans in New York who tended to hash out problems over expense account lunches at Le Cirque," he said, in an editor's note. [h/t to Vermont Biz]
The irony, of course, is that it has now been swallowed again, by one of the biggest magazine publishing companies in the world.]
Labels: acquisitions
Tweet