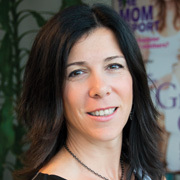 Sandra Parente
More changes at Rogers Publishing, with Sandra Parente, currently publisher of MoneySense and once a general manager of corporate sales for Rogers Media, becoming group publisher of Rogers' current affairs group, which includes Maclean's and Sportsnet.
Ian Portsmouth, who currently oversees Canadian Business and Profit will now have all three consumer-facing business magazines in his portfolio as he takes over as group publisher, business, including MoneySense.
Sophie Banford, newly arrived from TVA (where she was publisher at Clin d'Oeil and Moi & Cie.) has been pointed group publisher of the Quebec-based women's titles, responsible for such titles as LouLou and Chȃtelaine, Banford (like Parente) will report to executive publisher Lorraine Hoefler.
The three appointments round out other
management changes made recently as part of creating a group publisher structure: the appointments of Penny Hicks as group publisher for women's service magazines
Chatelaine, Today's Parent
and
Canadian Health & Lifestyle
and of Melissa Ahlstrand as group publisher of fashion and beauty books, including
Flare
,
Cosmetics
and
Hello!
Related posts:
Labels: reorganizations, Rogers Publishing
Tweet