Controversy takes flight over Canadian Geographic choice of the grey jay as national bird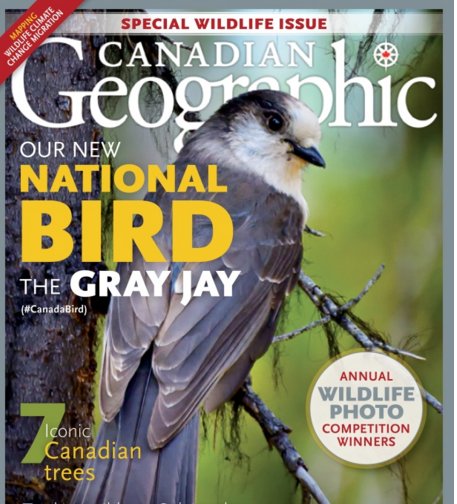 Controversy stalks every decision these days, it seems, including the recommended choice of the grey jay as Canada's national bird. Canadian Geographic magazine announced the choice after a two-year process which, in the end, threw out the top two contenders from a national online poll of 50,000 (the loon and the snowy owl) in favour of the grey jay, also known as the "whiskey jack".
Principally it was favoured because it is found in every province and territory and is not already a provincial symbol. (The choice was also caught up in a usage question over the use of "gray" rather than the Canadian "grey" and using the American spelling "whiskey" rather than the Canadian "whisky".)
Critics seem to be most miffed because they have never heard of a grey jay nor could identify one in the wild.
"We didn't want to have a national symbol selected by popularity contest alone," Aaron Kylie, Canadian Geographic's national editor, told CTV's Your Morning on Thursday. He said the magazine did not want to choose a bird that was already a provincial symbol, which ruled out the loon, the snowy owl and the fifth-place choice, New Brunswick's black-capped chickadee.
[Kylie appeared on the show alongside David Bird, head of McGill University's Avian Science and Conservation Centre, and an avid proponent of the gray jay.]

"If you had to pick 3 characteristics of Canadians, they would be I think hardy, friendly and smart, and the gray jay epitomizes all of those things," Bird said of the bird.
Related post:
Tweet