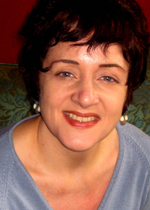 The Magazine Association of BC has appointed Sylvia Skene as its new executive director, effective immediately.She replaces Rhona MacInnes who resigned in June.
Skene was formerly with the Advanced Education Media Acquisitions Centre (AEMAC) at Langara College, responsible for updating two web sites and an online distributors' database, CANDI as well as other administrative duties. She held a variety of instructional roles as Langara and was on its board of governors from 1998 to 2001 and Langara Council from 1996 to 1998.
These days [says a post on the MagsBC e-letter], Sylvia volunteers as part of the team of "Beautiful Minds," a show that focuses on de-stigmatizing mental illness, on Vancouver Co-op Radio. She also volunteers for Art for Life, an auction that is a major source of revenue for Friends for Life, a charity that supports people with life-threatening illnesses and their families.
In the same newsletter there was a farewell from Heidi Waechtler, who is leaving to enter the SFU Master of Publishing Program. Skene will be running a one-person shop for a while, largely an outcome of funding challenges in BC.
Labels: MagsBC
Tweet