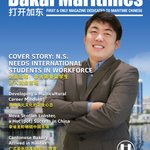 Dakai Maritimes is a new magazine launched in Halifax, serving readers from China or of Chinese descent. According to a story in the Herald, the quarterly will be printed in Mandarin and English and it is the first magazine targeting Nova Scotia's Chinese community, including newcomers and students from China attending the area's many universities.
The free magazine is distributed at various locations throughout the Halifax Regional Municipality. Publisher Meng Zhao told CBC Radio that about 8.000 people in Nova Scotia use a Chinese dialect:
"This magazine is created for all Chinese-speaking residents here in Nova Scotia. Hopefully, in a short term we can expand to include all Chinese-speaking communities in the Maritimes."
Zhao formerly worked with TC Media, as an advertising and editorial coordinator and latterly as an account executive.
Labels: launch
Tweet