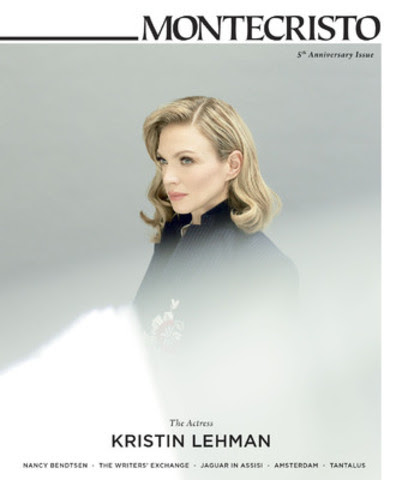 The Vancouver lifestyle quarterly magazine Montecristo is celebrating its fifth anniversary covering high-end art, design, fashion, culture, food and wine, travel and business. The cover story in the winter 2013 issue is about actress Kristin Lehman and features, for the first time in print, the private collection

of furniture and interior design items

of

design guru

Nancy Bendtsen

.
A release quotes editor Jim Tobler:
"Montecristo is a magazine that has, both in its print version and in its online version, been an erstwhile, dedicated, energetic, participatory member of our community. I can recall, without effort, how this magazine began, and the people who facilitated it along the way;Douglas Coupland, Sarah McLachlan, Parviz Tanavoli, Pino Posteraro, Chan Hon Goh, Mario Gutierrez, and so many more."
Founder and publisher Pasquale Cusano maintains,
"Our vision is to highlight the many artisans and individuals that do great work but go unnoticed. Many of them make their home here in Vancouver but affect culture, design, and decisions around the world."
The magazine, which is a slick credenza or coffee table item that is distributed in upscale hotels and through select Vancouver retailers, says that it reaches about 100,000 readers per issue. Among other things, it prides itself on only taking full-page ads (or spreads) and giving advertisers right hand positions, separated from each other. As a result it carries ads from clients such as Ferragamo USA, Maserati, Mercedes and Michael Kors. The magazine sells a three-year subscription for $65, which comes with a 70-minute massage. One year costs $25 (but no massage).
Labels: anniversary
Tweet